Tattoo Fading and How to Prevent It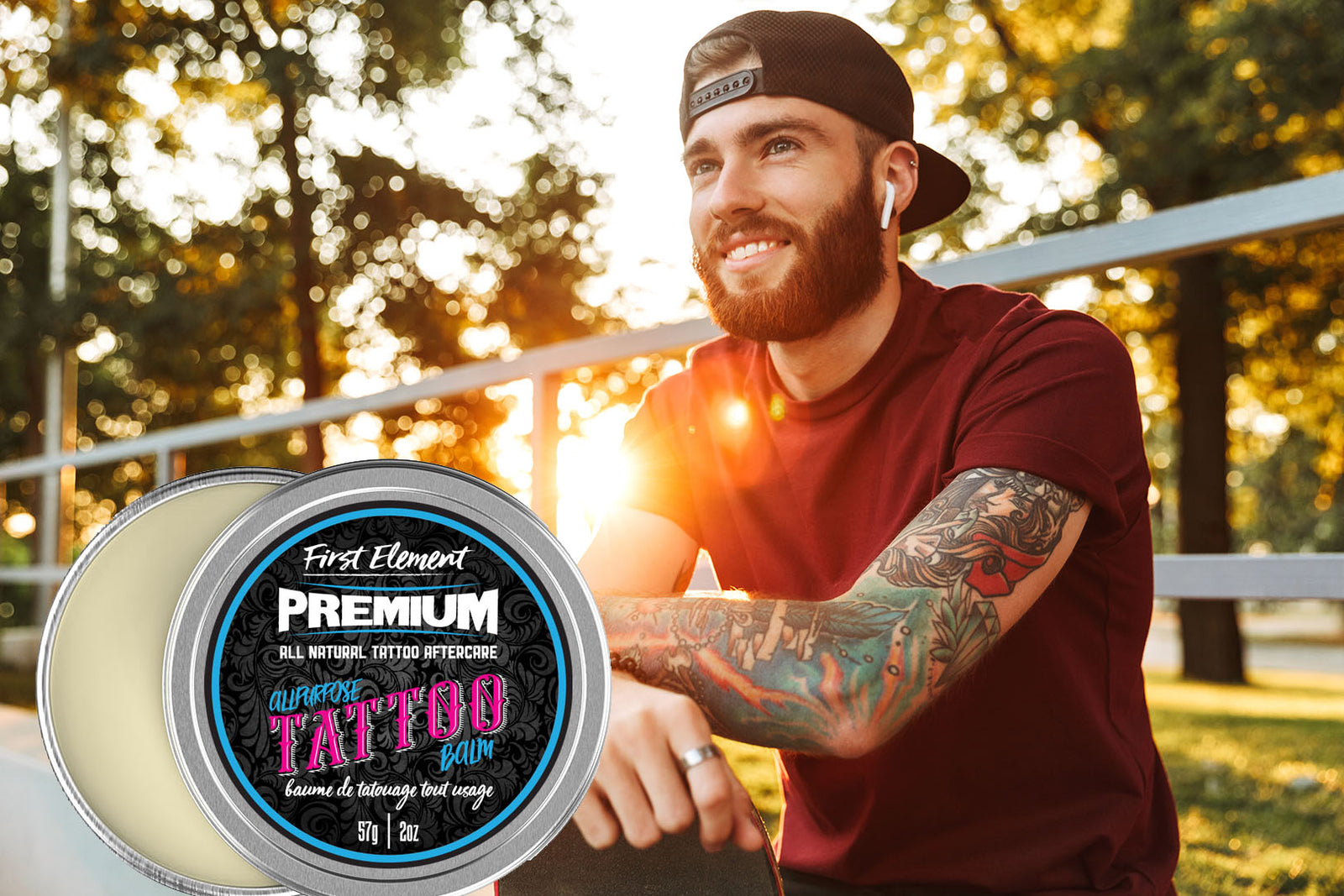 If you are anything like us, you love and appreciate the artistry that goes behind tattoos. The permanent art on your body is a canvas forever! But over time your tattoo just doesn't look like it once did. The vibrant colors, and details will unfortunately fade. There are many reasons why your ink may fade – sun exposure, poor aftercare, friction, placement etc. To revitalize your tattoos it all starts with treating your skin right! Keeping your skin healthy and hydrated will help electrify your tattoo and make those colours continue to pop. 
What can you do to fight the fade? The answer is simple...Moisturize!
We can help! We have just the product for you!
Using a moisturizing Tattoo Aftercare product is critical for the longevity of your tattoo! The beginning stages after you have gotten your new tattoo are extremely important as well, treat your skin right and your tattoos will last longer. 
Our All-Purpose Tattoo Balm is a 100% natural tattoo aftercare product for your fresh or old tattoo. A softer formula that melts fast in your hands for an easy application. Apply this amazing tattoo aftercare product to your newly tattooed skin to aid in healing or use it day to help enhances and preserve the liveliness of the ink.
The perfect triple threat product for your skin! The emollients used will hydrate and moisturize the skin while the essential fatty and linoleic acids nourish and soothe the skin. 
When you first get your tattoo, keep in mind that it's extremely vulnerable in those initial three weeks. Keep your brand-new ink out of the sun in this phase, prevent rubbing, apply an aftercare product and let it heal properly - you'll thank yourself later. Our Protecting Tattoo Aftercare Balm is perfect for the healing process, as it contains a higher wax content and will leave a protective layer on your skin to help in the healing process to lock in moisture, allow your skin to breathe naturally, and repel free radicals. 
Once your tattoo is fully healed, you can continue to use First Element's Tattoo aftercare products like our balms and butters in a natural and calming scent to keep your tattoo vibrant, and electrifying, while preventing fading for years to come.
Our Tattoo Aftercare Products products do not contain petroleum by-products its natural ingredients allow the skin to breathe freely. It's the perfect combination of natural food grade ingredients.
In short listen to your tattoo artist's guidance to ensure your tattoo heals correctly and visit First Element for all your tattoo aftercare needs.
---